Material Handling Equipment
Bulk Bag Stations engineered to fit your material handling needs.
Self Contained Loader
Product Features
• Brushed Stainless Steel construction
• All Stainless steel material contact surfaces
• High performance centrifugal motor
• Glazed polyester reinforced push down flat filter
• High Flow Filter cleaning system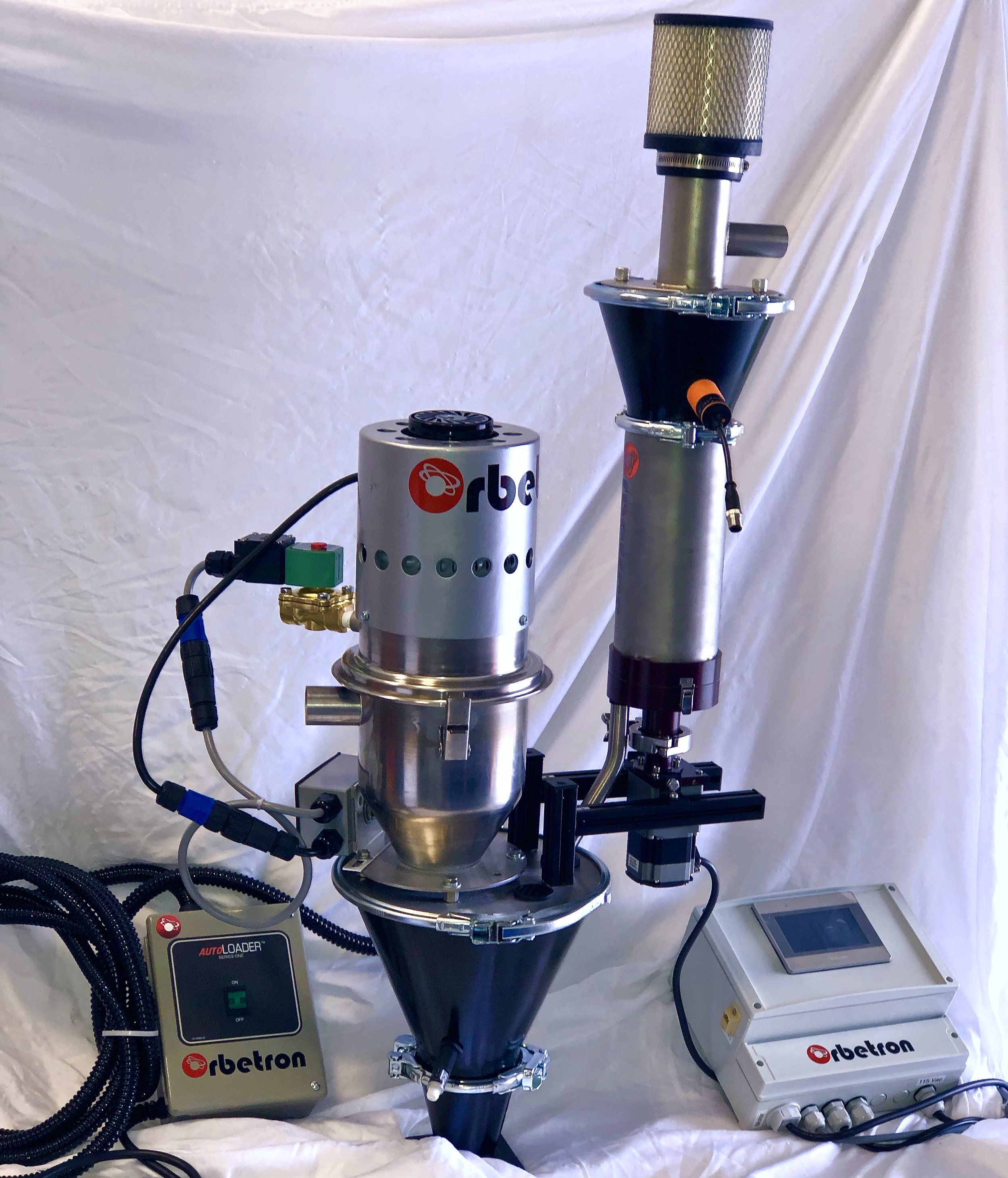 this is a modified loader for one of our customers.
if you're interested, submit a request and lets get started!
OSRL, OSLC and OSRIL Hopper Loaders come with integral motor and control, they are ideal for conveying material over short distances. Based on their Stainless-Steel construction and filter cleaning system, these hopper loaders are perfect for conveying pellets as well as regrind. OSRL and OSLC series hopper loaders are perfect for conveying materials to virtually any kind of bin or hopper. By adding a Pyrex sight glass, the OSRIL Hopper loaders allow these to be mounted directly to process machines and provides you visual indication of the material entering your process.
Orbetron Material Hopper
Product Features
Stainless Steel Construction

Material seals with quick release clamps

Manual slide valve on bottom of hopper

Easy cleaning

High temperature operation

Dust tight

Standard hopper sizes OMH1 (1cuft), OMH0.8 (0.8 cuft), OMH 0.2 (0.2cuft)
Orbetron's OMH hoppers, ensures the free flowing of material from a loader or central receiver. Materials range from pellets, powders, granulate, and flake. For non-flowing materials Orbetron can introduce agitation techniques to improve material flow. The OMH hoppers are dust tight and can be easily broken down with our quick clamp design. This allows for easy cleaning during material changes. The top plate employs a unique lid/hinge design that allows the operator to lift the lid without removing the loader or receiver. Additional mounting support may be necessary with larger and heavier loaders or receiver.
Orbetron Discharge Unit
Product Features
Stainless Steel Construction

Compact Design

High temperature operation

Easy integration with valves

Dust tight
Orbetron's ODU ensures the immediate flow of material from the material storage hopper into a continuous or batching process. The ODU promotes the flow of regrind, wood flour, and other non-free flowing material without noise, vibration, or the creation of dust. Material is pre-conditioned exiting the ODU, enabling improved performance for refilling or mixing material. The compact design is achieved by employing a horizontal agitator in a hemispherical hopper. Orbetron can integrate slide valves, butterfly valves, and other refill solutions for proper material flow. Extension hopper can be incorporated on the top of the bowl to increase the volume over the agitation unit. The ODU is offered as a mixing bowl for low rate batching systems. This is designed with our ODB, and ODC blending systems.
Orbetron Powder Loaders
Product Features
Stainless Steel Construction

Compact Design

Dust tight

HepaFilter

Mechanical Cleaning Technology
Our OPL series pneumatic conveying units are designed to convey low rates of material ranging from granulate to powders. All conveying units are very versatile and offer Orbetron's Mechanical Cleaning Technology (MCT) for all sizes of our loaders & receivers. This eliminates any type of air purging or blowback that most conveying units incorporate. (MCT) eliminates all dust in the conveying units, to ensure a clean processing environment.