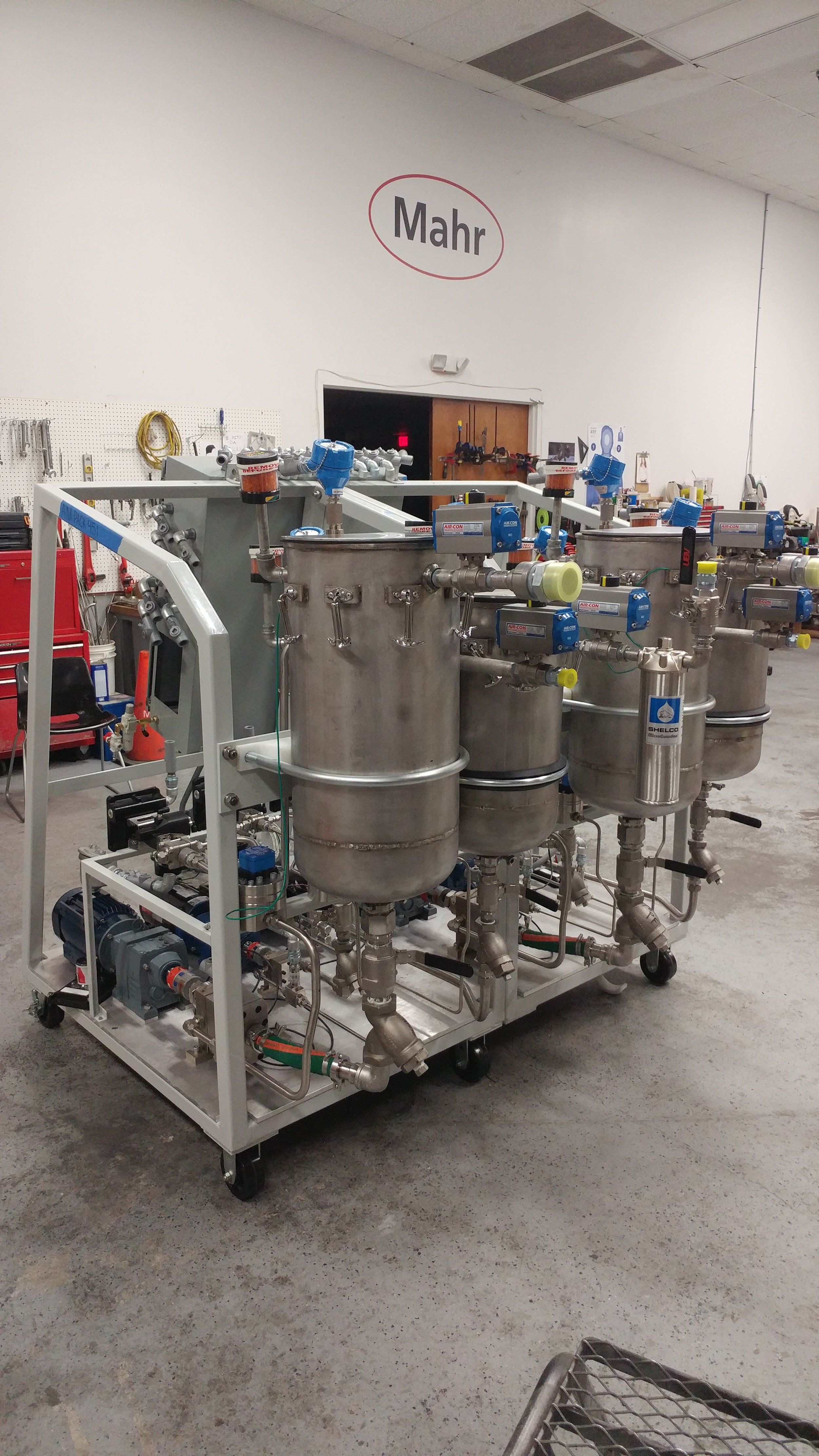 1 Part Sanitary Injection System With Product Conditioning
2 Part Meter Mix Dispense with Static Mixer Dispensing Direct from the Barrel
2-Part Mix HEAD
Simple Design and few parts make it easy to assemble/disassemble

Does not require air or electricity

Fits standard disposable static mixers

Built in check valves prevent back flow of product

Grease flushing ports

Available in aluminum or stainless steel
5 Part Heated Meter Mix Dispense System Variable Formula Capability
12 stream single component
5 Part Meter Mix Dispense System Multiple Adhesive Recipes
Dynamic Mixer
When production requires a homogeneous mixture, continuous process, and reliable consistency, dynamic mixer is a proven solution. Solids and liquids are instantly and accurately mixed and dispensed in one step.
grid melt systems
Grid Melting systems are designed to offer customers special solutions over standard hot melt applications. The custom designed grid melter`s have the capability to melt at higher temperatures than the common Stainless Steel melts on today's market. Couple these capabilities with a positive displacement gear pump and the possibilities are endless.
Lab equipment
Understanding that your manufacturing processes are constantly evolving, your R&D testing equipment must keep pace with tomorrow's technology. By providing advanced R&D prototyping systems will help you stay ahead of your competition. The MiniMax™ Prototype System can replicate your complete manufacturing process.
Liquid/Powder Meter Mix – Dispense Systems
When blending liquids and powders, creating a homogeneous mixture can be a bit of a challenge. Mahr using Orbetron`s feeders has introduced its new low shear, static / dynamic mixing system
MarMax MM2P
Meter Mix and Dispense products on demand directly to the production line. These systems can be used with multi-component chemistry and is highly accurately up to +/- 1%. With complete automation the system has alarm monitors for high temperature, high pressure, off ratio, and level controls for the day holding tanks. Product management and conditioning such as degassing is also offered.
Metered Dispensing System Filling Foil Blister Trays