Precision metering, accuracy, and repeat-ability, with no pulsation

Consistent performance under demanding conditions

Reliability, long life, minimal maintenance

Superior metallurgy, state-of-the-art machining, and advanced metro-logy equipment make Feinpruef pumps simply the best on the market - trusted worldwide for over 50 years.

General specifications: The gear pumps can be designed to operate at temperatures up to 425° (800°F), pressures in excess of 350 bar (5000 psi), and viscosity exceeding 30,000 poise. Various materials of construction may be selected, based on process requirements such as operating temperatures pressures., viscosity, corrosive or abrasive properties of product, etc. Standard pump capacities range from 0.01 cc/rev to 2300 cc/rev. Metering accuracy is typically within ±1% by volume. Specifications very by pump design.
HV. LV Pump
MarFlow™ Pail, Drum, Tote and Vessel Pumps
Drum Metering Pumps are suitable for most precision metering of thin to thick viscosity products.
MarMag™ Hazardous & Toxic Pumping Solutions
MarMagTM Magnetic Drive Pumps are ideal for critical containment applications. When product leakage cannot be tolerated, MarMagTM Magnetically Coupled Pumps are the perfect solution. MarMagTM is ideal for pumping environmentally hazardous or toxic materials, flammable liquids, or strong aromatics that require hermetic sealing.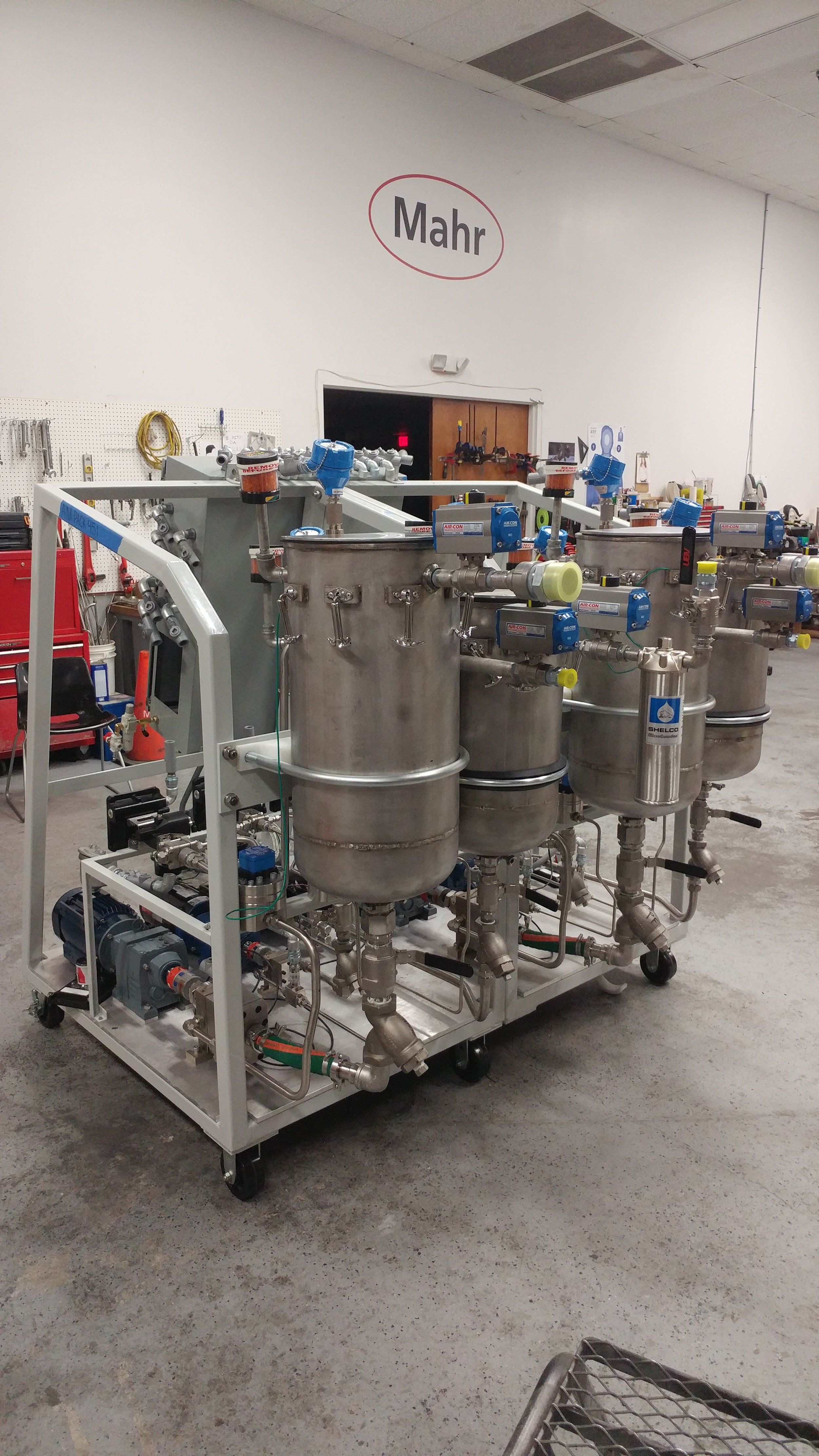 1 Part Sanitary Injection System With Product Conditioning
2 Part Meter Mix Dispense with Static Mixer Dispensing Direct from the Barrel
5 Part Heated Meter Mix Dispense System Variable Formula Capability
12 stream single component
5 Part Meter Mix Dispense System Multiple Adhesive Recipes
Dynamic Mixer
When production requires a homogeneous mixture, continuous process, and reliable consistency, dynamic mixer is a proven solution. Solids and liquids are instantly and accurately mixed and dispensed in one step.
Lab equipment
Understanding that your manufacturing processes are constantly evolving, your R&D testing equipment must keep pace with tomorrow's technology. By providing advanced R&D prototyping systems will help you stay ahead of your competition. The MiniMax™ Prototype System can replicate your complete manufacturing process.
Liquid/Powder Meter Mix – Dispense Systems
When blending liquids and powders, creating a homogeneous mixture can be a bit of a challenge. Mahr using Orbetron`s feeders has introduced its new low shear, static / dynamic mixing system
MarMax MM2P
Meter Mix and Dispense products on demand directly to the production line. These systems can be used with multi-component chemistry and is highly accurately up to +/- 1%. With complete automation the system has alarm monitors for high temperature, high pressure, off ratio, and level controls for the day holding tanks. Product management and conditioning such as degassing is also offered.
Metered Dispensing System Filling Foil Blister Trays