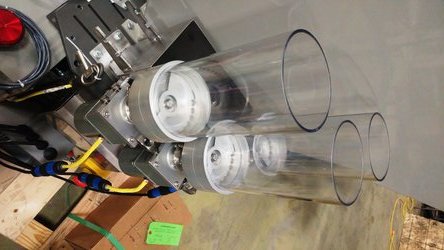 Orbetron Batch Blender OBB – OBB-R
Our OBB mini and micro Series batch blenders are supplied with all Disc feeder dosing technology in place of the standard valve concept. These blenders are designed for usage on small molding machines, low rate extrusion applications, offline batching and mix systems, and integration into packaging systems.
Description
Orbetron's New OBB Series batch blender is the next evolution of products to use the Orbetron disc feeding technology. What does Orbetron do? We can supply processors with disc based feeding technology that will feed a very precise amount of material into a weigh hopper. This will offer customers unprecedented accuracy in dosing of material.
Brief Design
Orbetron's New OBB-R batch blending concept, allows processors with existing batch blenders the flexibility to retrofit from the standard slide or auger components to Orbetron's disc feeders. For general retrofits we recommend the high percentage materials use the standard valve configuration and all minor components use the disc feeder for an improved accuracy of dosing materials. Contact Orbetron to see if your batch blender (New or Old) can use the OBB-R retrofit package. salesinfo@orbetron.com
Construction
Hemispherical Hopper with Horizontal Agitator

SS Contact Surfaces

Compact Design

Easy Cleaning

Powder, Pellet or Granulate Usage

Mini and Micro uses same design structure
Advantages
Minimal airus age

Quick material changeover

Powder feed & blend capability

High dosing accuracy

Easy conversion from micro tomini Series

Clean room adaptation

Integration of 200, 150, 100, 50 Series feeders
Features
Compact design dosing feeder

Easy Cleaning

Quick material changeovers

High temp operation

Go from air activation to motor activation (multiple RPM's available)

Dust tight dosing feeders

Feeding capability ingrams

Reduce cost by converting a 4 station blender into 6 component with electrical upgrade

Loader integration

Use existing controls or upgrade your controls
Option Equipment
Additional Hopper Sizes

Level Sensor

Material Loading

Ethernet Communication

Conversion to Continuous Feeding
Applications for Blending
Plastic Pellet Blends

Powder Ingredient Blends

Spice Blends

Small Animal Feed Blends

OEM Configuration Blends